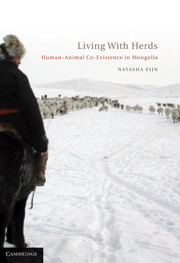 Mardi 10 février 2015 de 11h à 13h

EPHE, bâtiment Le France, salle 124, 190 avenue de France, Paris 13e.
The multispecies community of a Mongolian herding encampment is constantly engaged in a process of enculturation, whereby both herders and herd animals develop means of communicating with one another. Signals are species specific and context dependent, resulting in a complex array of social cues through both verbal and corporeal communication.
Herd animals are spoken to in a specific manner, similar to what Kohn (2007) calls "trans-species pidgin": a mixture of the sounds the animal itself makes and sounds from Mongolian as a language. Mongolian herders use species-specific vocabulary that varies depending on whether an animal is young or old, male or female, or whether the signal is directed towards the herd as a whole or to an individual. This presentation will feature filmic material to illustrate these complex forms of communication between Mongolian herders and the herd animals that they live amongst.
Bio:
Natasha Fijn's research encompasses the ecological humanities and within anthropology, the exciting subdisciplines of visual anthropology and human-animal studies. Her multispecies ethnography has been based in the Khangai Mountains of Mongolia and Arnhem Land in the Northern Territory of Australia. Her recent postdoctoral research explored the connections between Yolngu and significant totemic animals, such as crocodiles, honeybees, dogs and snakes through both text and observational filmmaking.
La communication de Natasha Fijn sera suivie d'un exposé de Charlotte Marchina (INALCO-EPHE) "Talking to animals: human-animal communication and collaboration among Mongolian and Buryat herders"